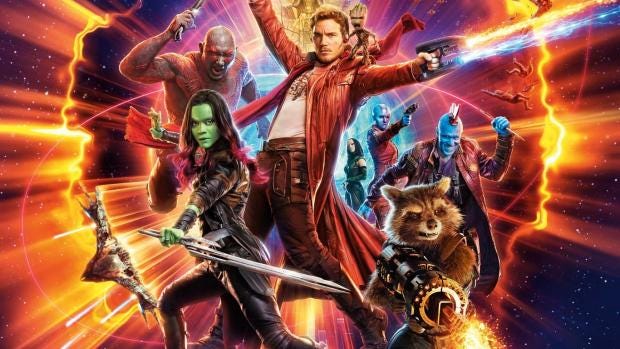 If you have read my list of favourite Marvel movies found in my Pop Goes The Badger Blog you would know that  Guardians of the Galaxy came in at number 2, after the Avengers, as the Marvel movie that I most enjoyed. Despite 3 more movies coming out since then, including this review, I will stand by that. Even though Captain America: Civil War is probably their best made movie on a enjoyment level I still prefer the Avengers and Guardians more. Actually I will say that Winter Solider is still probably my favourite Cap movie, on my enjoyable scale, as the last time I watched Civil War (and second viewing) I fell asleep. I might have to revise that list to include the three additional movies but might wait until after Spider-Man: Homecoming and Thor: Ragnarok are released.
I will try not to be too heavy with the spoilers considering that this movie has not been released in all regions.
First off, it is an enjoyable movie, actually my bf likes this one better than the first though he still thinks that there is not much of a storyline in either movie. I still, however, think the first one has a charm that this one kind of lacks. There is a little growth in the characters and the humour is much more present in my opinion and Baby Groot is adorable and should bring a smile to your face every time he is on screen.
While the original movie was an introduction and formation of the team, Vol 2 is a movie about family and fatherhood. At the end of the first movie Peter Quill/Star Lord (Chris Pratt) finds out that he is only half human with his father being something that even the Nova Corps were unaware of. In Vol 2 we meet his father a Celestial (a kind of god) named Ego (Kurt Russell). Peter is a little resentful of his father to begin with but eventually get swayed by the charm of Ego and actually finding his father. Gamora (Zoe Salanda) is suspicious of Ego and also resentful to an extant as she feels that Ego is taking Peter away from the family that is being formed within the Guardians.
It is not just Peter and his budding relationship with his father that is being explored. The relationship between the Gamora and her sister Nebula (Karen Gillan) and the treatment the endured by their adoptive father Thanos along with the relationship of Peter and his kidnapper Yondu (Michael Rooker), who we find out was hired by Ego to bring Peter to him after his mother died but didn't. Yondu also builds a bit of a relationship with Rocket (voiced by Bradley Cooper) as they are very much alike in some ways.
Like in the first one the music is good though admittedly not as good or used as well as the first one, in my opinion. Stand out tracks being Fleetwood Mac's The Chain and Cat Stevens Father and Son. The last one in  particular might bring tears to your eyes, as it did me. I think it just one of those songs that you just instinctively know the words too as I was mouthing the words to it as it was playing and my bf was singing aloud to it.
1/2
Trailer